In the retreat the accommodations exist out of high tech portable rooms, named the Hideaways. The Hideaway by HappyGreen is designed for the future: a sustainable, modular and easy-to-transport room which can be placed anywhere in the world without harming the environment.
See room availability & prices
See daypass availability & prices
The Hideaway
The Hideaway shows you don't have to compromise on luxury to be sustainable. The Hideaway has several luxury features: a design bathroom with rainshower, separate design toilet, skylight roof, panorama window and walk-in closet. Furthermore the Hideaway contains innovative home automation and interior designed by HappyGreen. Many of these amenities are featured below: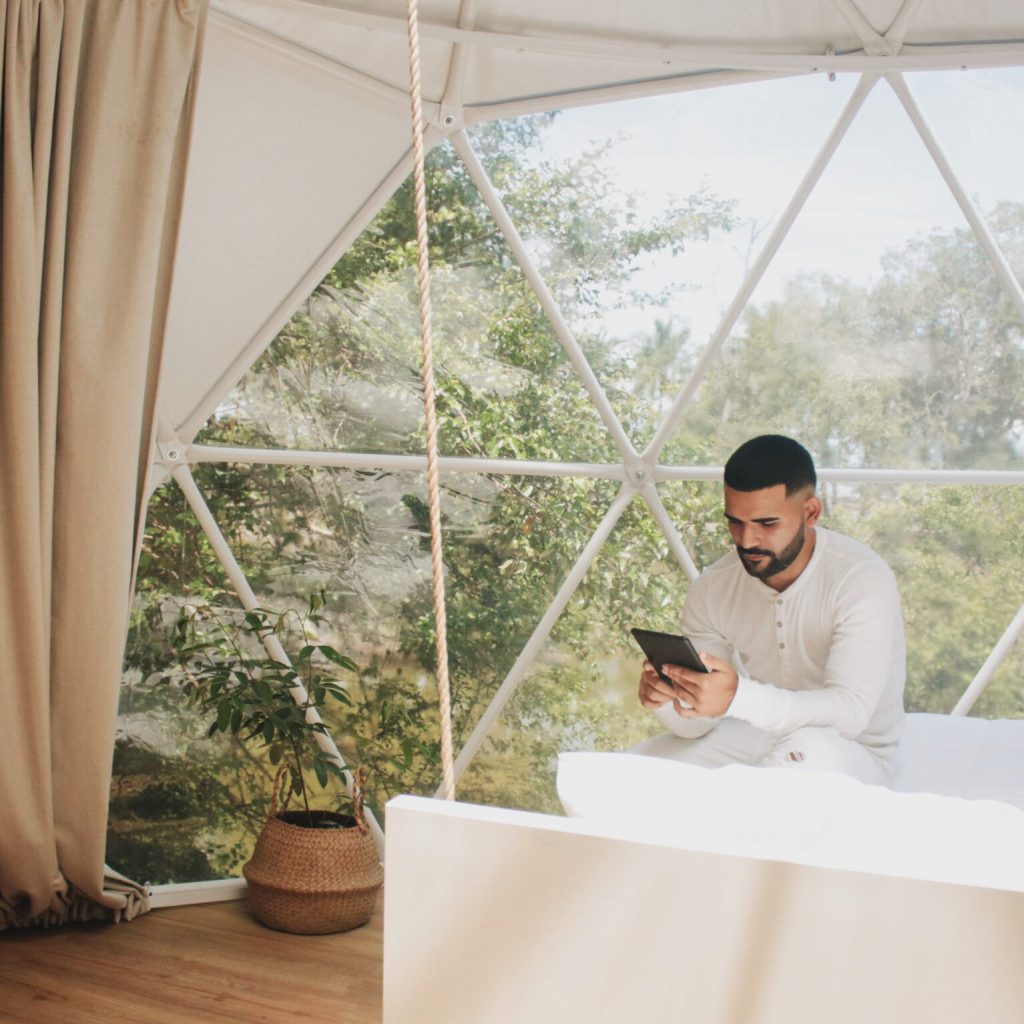 Bedroom
From the centrally positioned bed within the Hideaway, you are overlooking your bed contains a mattress made with bamboo fibers and overlooks the river, mangroves, beach and ocean through the wide angle panorama window. In combination with the blackout curtains, locally made in collaboration with craftswomen of the nearby town, it ensures a peaceful night's rest.
Bathroom
The eye-catching design bathroom features a rain shower surrounded by a round glass shower cabin, design sink with bamboo elements, a large mirror with makeup light, complementary sustainable toiletries and a separately ventilated space with design sink and toilet. Naturally our hosts supply you with fresh high quality towels and bathrobes to use in your bathroom and on the beach.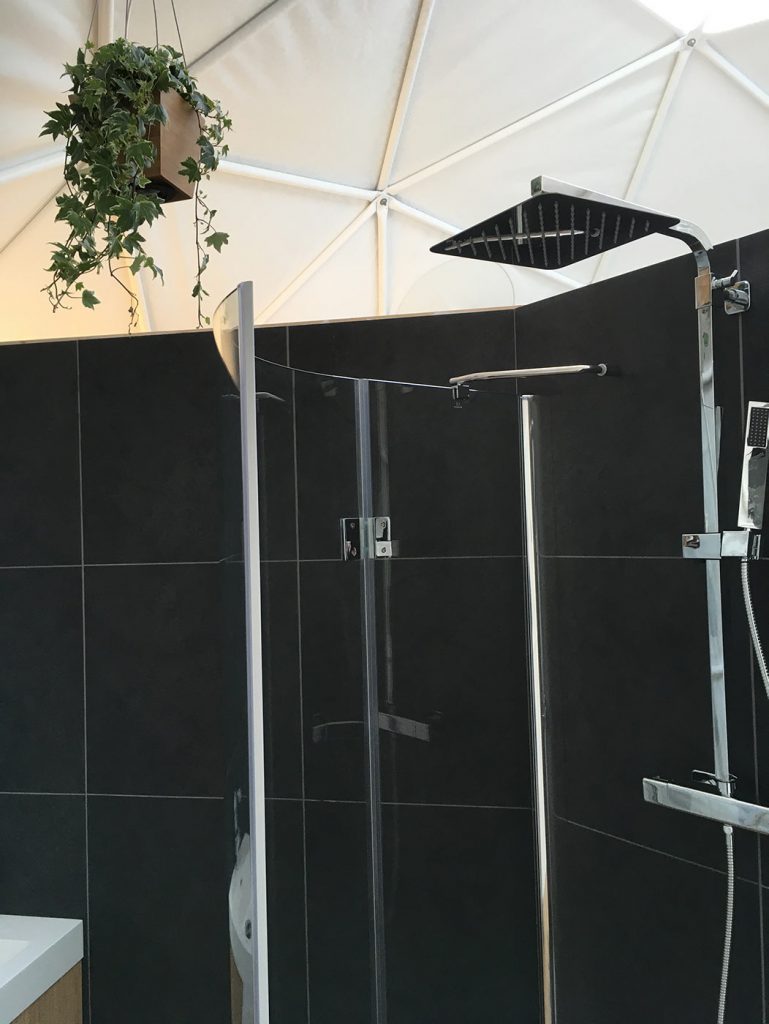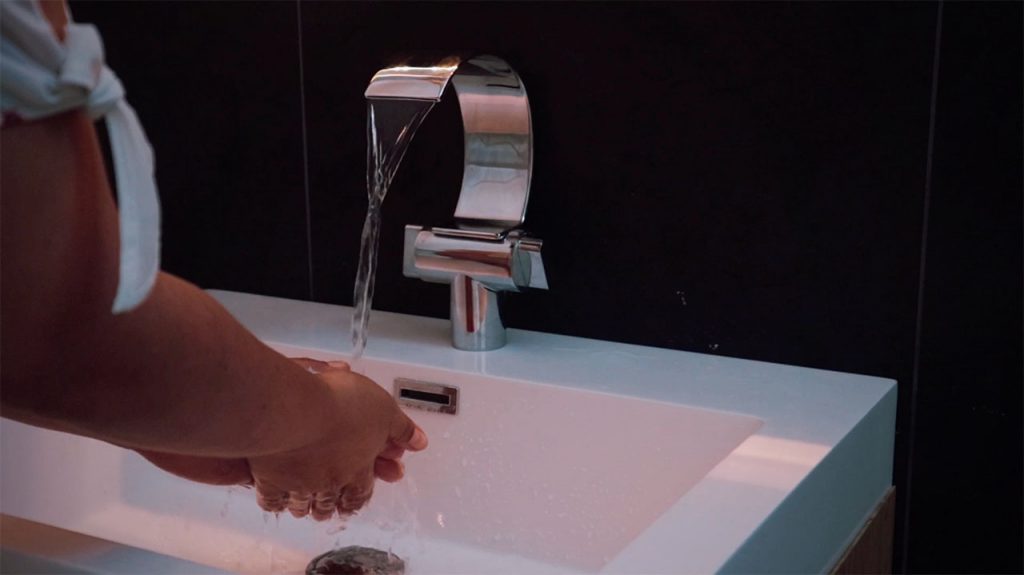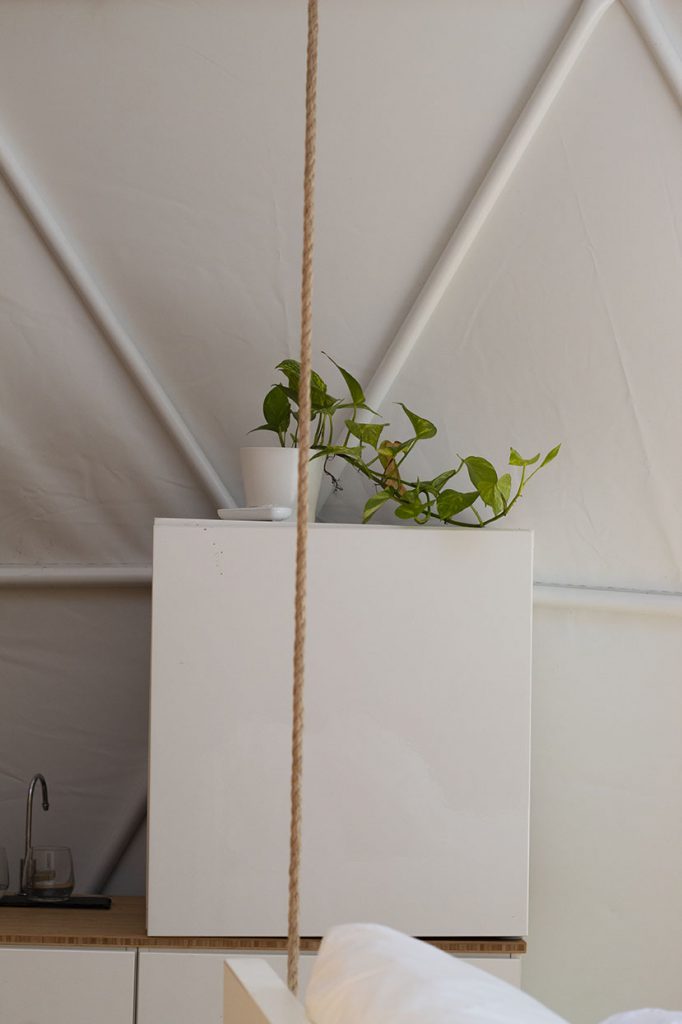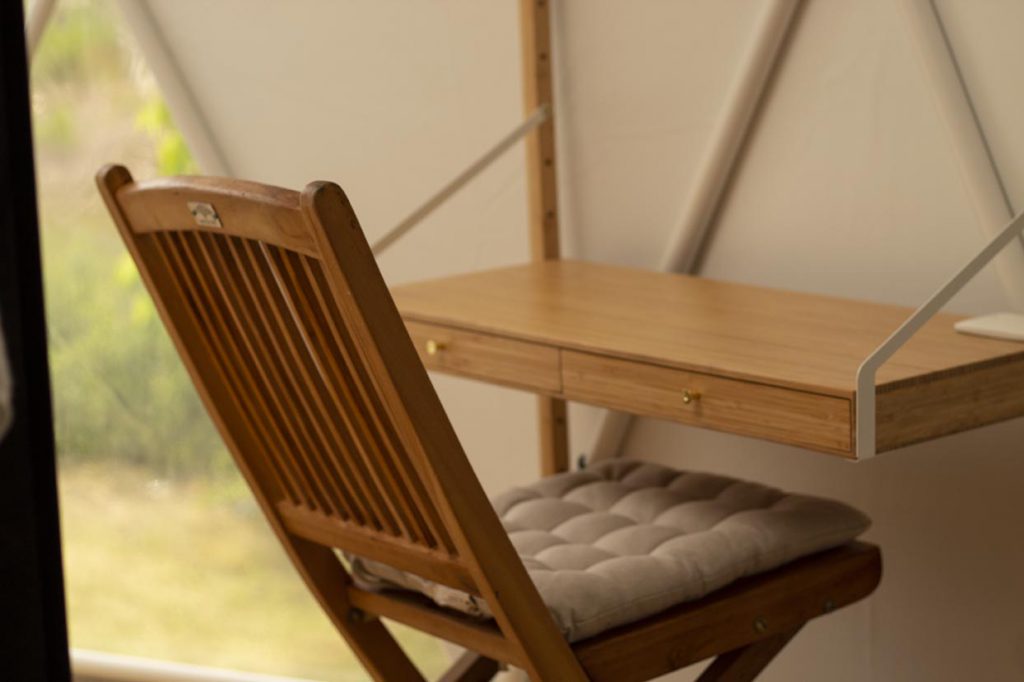 Hideaway Amenities
Your Hideaway features an independent air conditioning cooling system with the latest air purification filters to keep you comfortable at all times. In your Hideaway you will find a mini fridge and an advanced water purification system which gives you an unlimited supply of delicious clean and soft potable water. The bamboo built-in desk with power outlets makes sure you can comfortably use your laptop and devices.
Walk-in closet
In the hallway you'll find a small walk-in closet with storing space, hangers and drawers making sure your suitcases and wardrobe can easily be stored. It features a steamer to keep your clothes fresh and wrinkle free, power outlets to charge your devices and a vault which will also fit your laptop. Complimentary yoga mats are stored here as well.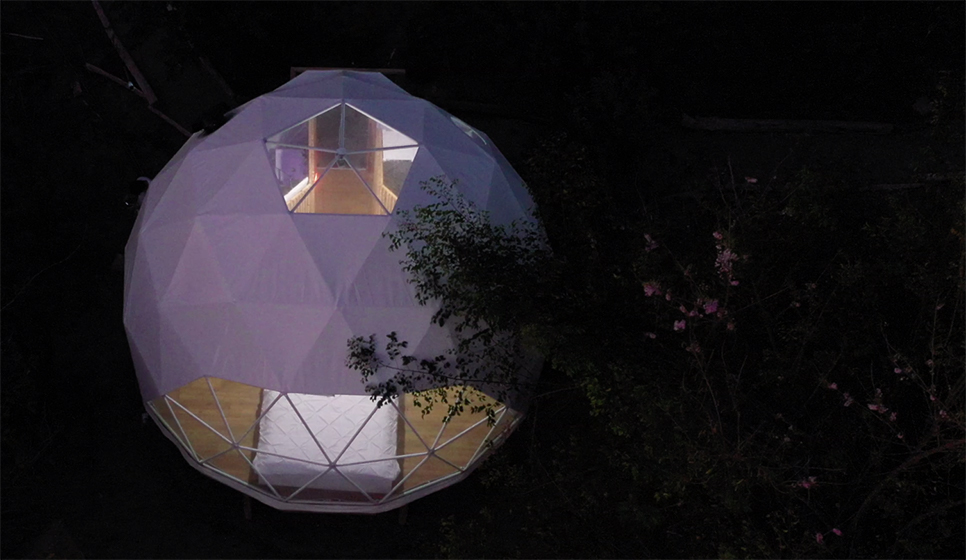 Automation
Many amenities can be controlled by you through the retreat app and tablet. Besides ordering food and booking activities with the app, you can easily operate the atmospheric and multicolor light system to create the perfect setting. With the app you can also lock and unlock the front door and even play soft music with our Sonos sound system integrated into your Hideaway.
Amenities inside the retreat
Water with water purification system
(reverse osmosis)
Round glass shower cabin with rain shower
Design toilet with separate solar ventilation system
Floating bed
Walk-in closet
Starlight window
Panorama Window
Custom made mattress made from Bamboo fibers
Mini bar
Black out curtains
Mirror with make up light
Earthquake and storm proof frame

Complimentary WiFi

International sockets/plugs

Air conditioning with individual temperature control

Flip-flops and bathrobes

Beach bag and beach towels

Hairdryer
Private beach beds under a palm leaf umbrellas
Walkways through nature, illuminated by solar powered lighting and lanterns
Sandy palm tree filled beach
Walkway through mangroves
Surrounded by nature
Abundance of wildlife
Beach and river lounge areas
Operate your Hideaway with the Retreat Tablet
Lock and open door
Wake up lights
Play your own music via Sonos
Climate control with air cooling and purifying system
Solar powered air circulation system
Electric outlets and wireless mobile device charging stations
Atmospheric and multicolor adjustable lighting
Be the first to know
Excited like we are?
Subscribe to our member list to get early access and be among the first to hear when new nights will become available.
Don't like waiting?
Neither do we. Therefore you'll receive all kinds of perks and discounts while being on the member list. The longer you are on the list, the more perks and discounts you'll receive!