If you love Italian food, you're going to love this restaurant. Today we feature Lucca Trattoria, one of the best Italian food restaurants in Panama City. But what makes it so special? We're going to discuss the history and story behind this restaurant and also how they are trying to stand their ground during this pandemic.
Luca Trattoria enhances Italian cuisine by modernizing a classic trattoria. It has a warm and familiar atmosphere where you can enjoy an artisanal pizza, but at an affordable price. Lucca Trattoria takes its name in honor of the city of Lucca, located in southern Italy and its slogan is "Modern Lucca Trattoria, rustic soul". They knew that Panamanians have a great need to eat well and that is why they took pains to offer a product of the highest quality.
At Lucca Trattoria they not only create dishes – they sell a complete experience. The tableware in which the clients taste these delicious dishes is a rustic pewter tableware. You can accompany your meal with a high-end wine at a good price or an Italian cocktail (Aperol, Bellini, Rossini, among others) and even with a delicious Italian beer. If you want something different from a pizza, you can enjoy their fresh pastas and for those with a sweet tooth, they can finish the evening with an incredible homemade dessert. Its spaces are spacious, comfortable and with good access, ideal for the whole family: from mothers with strollers, to people with special needs and including our furry friends, who are well received on the pet friendly terrace. A great place for everyone to hang out and enjoy good food.
Behind the scenes of the preparation
Lucca Trattoria immersed itself into the methods of fermentation and preparation of the pizza dough and decided to work with a mixture that is 30% sourdough and that goes through a process of hydration, maturation and fermentation of 36 hours; a process that culminates in a fairly light and airy dough. For the sauce they decide to mix two types of elaboration; Roman and Neapolitan, using San Marzano tomato which gives it a sweet touch. The mozzarella cheese they use is a low-fat mozzarella and the magic of cooking is done in a Stefano Ferrara oven, hand-built especially for them and brought from Italy. In the end, this whole process brings an extra touch of authenticity to your pizzas (which you can definitely taste!).
A part of something big
Of course we spoke with the general manager of Lucca Trattoria: Carlos García. At the beginning of our conversation, García clarifies that when talking about Lucca Trattoria, we have to mention the CM Food Co. Group: a business group of young entrepreneurs who are characterized by providing a unique personality to each of the concepts that they have developed over the years and of which Lucca Trattoria is a part.
But what is CM Food Co. Group? It was founded in Caracas, Venezuela with the Azahar Restaurant, a restaurant that was a success due to its exclusive concept and which, thanks to its popularity, they decided to expand to Panama. Azahar, the group's first restaurant in Panama, opened its doors 11 years ago in Vía Argentina, one of the sectors with more restaurants in the city and where it arrives to offer its gastronomic proposal, Western European signature cuisine with Asian influences, a perfect fusion that quickly earned a very special place in the top of the best restaurants in Panama. After 8 successful years in Vía Argentina, they decide to move the restaurant to one of the most exclusive residential projects, the Yoo Panama building, located on Avenida Balboa, a space where its exclusive concept fits perfectly.
The group decided in 2017 to expand with the opening of a new restaurant; Brutto. It was born under the idea of ​​sharing: sitting at a table, being able to taste delicious, high quality cuisine dishes, each one representing a different culture while tasting a delicious cocktail. Brutto is located in San Francisco, an area as diverse as the dishes you can get from its menu. Brutto has an urban chic design which gives a unique personality to the place – luxurious but without losing its simplicity. Replicating the success of its predecessor, it ranks as one of the best restaurants in town.
In 2018, just one year later, the group decides to revolutionize again, this time bringing the elegance and exclusivity to the malls. Opening a restaurant in which people who visit the Multiplaza spaces can take a break and take refuge in this oasis of haute cuisine and mixology. Its concept of "Brunch all day" and its peculiar menu, in which you can get dishes from the different restaurants of the group, have made it a mandatory stop for all lovers of shopping, good cuisine and a great vibe.
The innovating and expanding didn't stop there. In 2019, they opened up Wahaka, a concept in which they combine traditional Mexican cuisine, especially from Oaxaca City, with touches of Asian cuisine, a totally explosive mix and full of flavor. Located in the Oceania Business Plaza, one of the most exclusive business centers in the city, it becomes one of the favorite places to have a good time after a long day at the office, while enjoying one of its super After Office promotions.
Then… the pandemic hit
Until March 2020, all the group's restaurants were full of people who enjoyed these unique, amazing places every single day. They had grown so much that by 2020 CM Food Co. Group generated some 270 direct jobs among its 5 restaurants. That is why when the pandemic reached Panama, they had to restructure all their concepts. This is when the restaurants started with delivery. For García, one of the most difficult challenges when serving customers only through the delivery format was to bring Panamanians' homes an experience that would remind them of eating in their favorite restaurants and that is why they decided to incorporate very specific details, like the Lucca Trattoria logo on all take-out packages, giving a touch of exclusivity to a normally boring and generic package.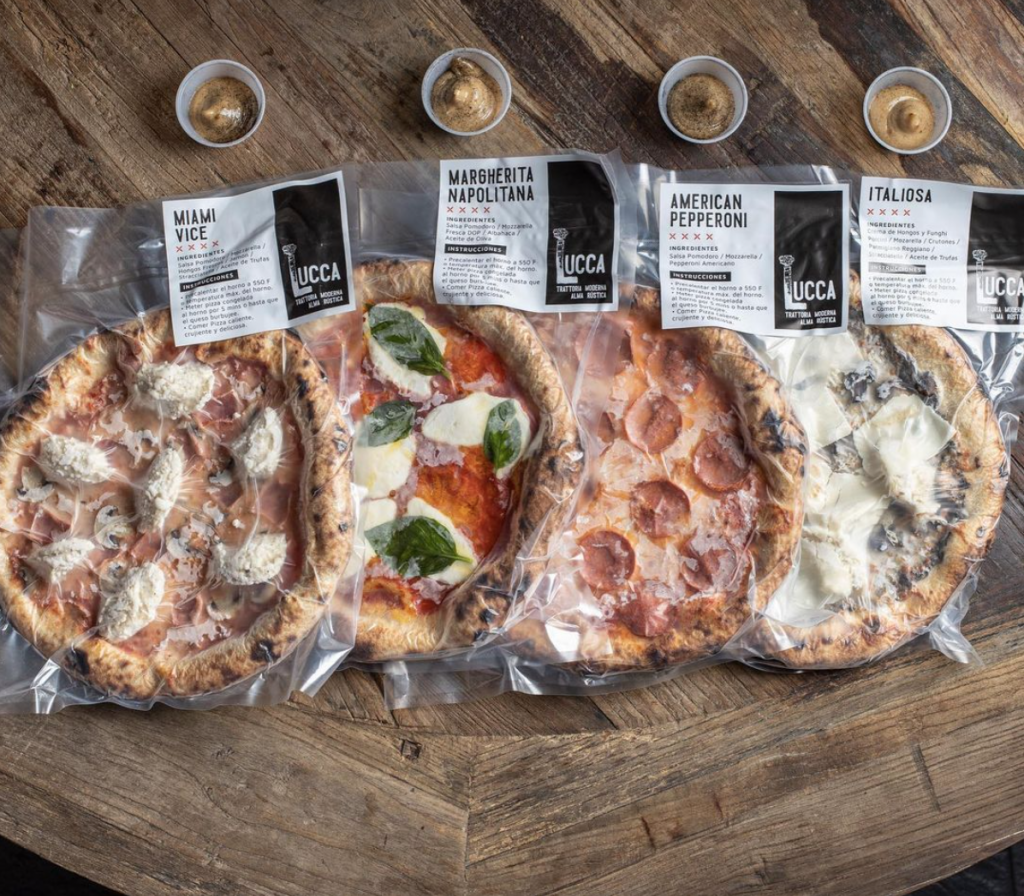 Teamwork makes the dream work
Regarding his employees, García tells us that they see the business through human capital. They know that no business can be successful without a great team. He admits that they unfortunately had to suspend many of their employees and that despite the fact that we live in uncertain times, in which we do not know what may happen tomorrow, they have gradually restructured and reintegrated employees according to the increase in activity in restaurants. They gave some of his collaborators personal loans so they could acquire motorcycles and with them they created their own delivery fleet, as did the restaurant's DJ who also joined the fleet.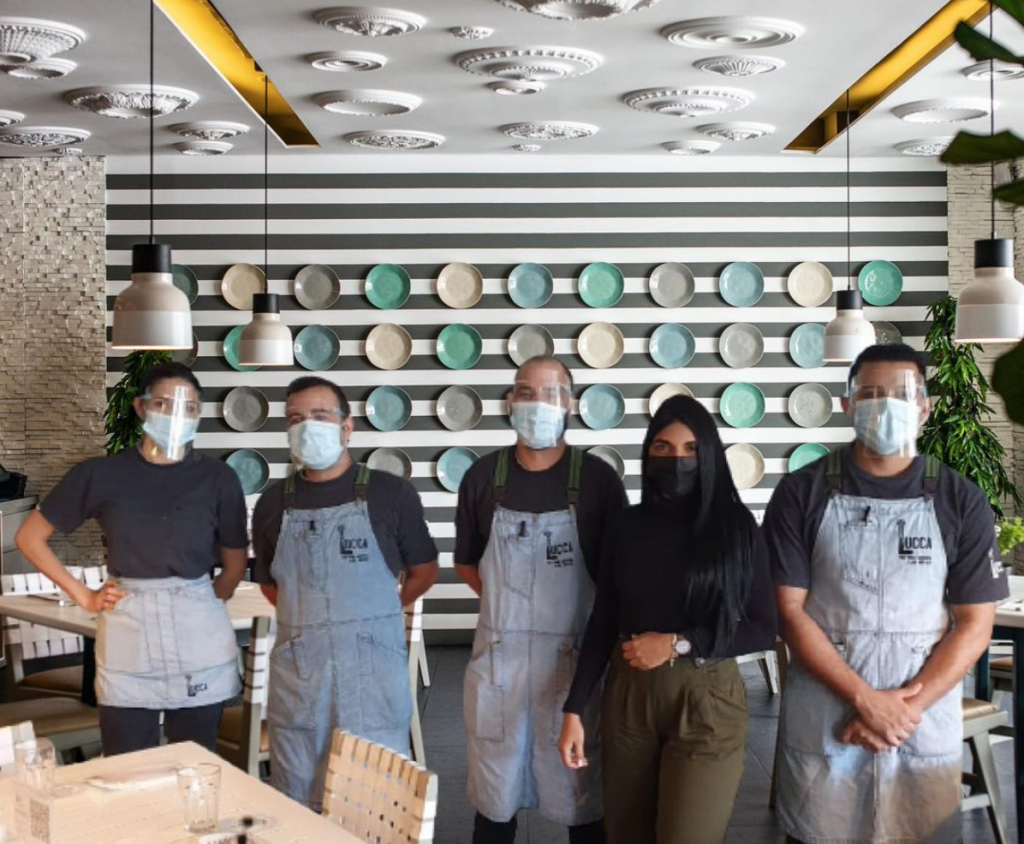 Creating new opportunities
For FM Food Co Group, every crisis is equal to new opportunities. That is why they decided to launch Azahar Pantry, a digital platform where customers can purchase food boxes containing the ingredients and instructions necessary to make their favorite restaurant dishes at home. The result? A meal as fresh as if they were in the restaurant. Additionally, they create the Burger Project and Jack Pizza; projects that help them to reintegrate more people to their jobs.
Keeping their heads up
When talking about the future, the group awaits it with great enthusiasm and it is that thanks to the pandemic they were able to explore a territory they had never explored before with Azahar Pantry, a project that they plan to keep relevant and that he hopes will continue to grow. García also comments that the moment of expansion has come. Soon countries like Venezuela, Aruba and El Salvador will be able to enjoy Lucca Trattoria, Brutto and other restaurants of the group. He also plans for his employees to grow with the expansion, to move them to these new locations and for them to be participants in this new stage, because as García and his partners admit, "the furnace does not turn on by itself".